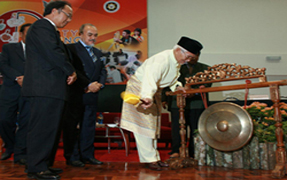 LAUNCHING of CAPACITY BUILDING FOR GRADUATES SARAWAK AT SWINBURNE UNIVERSITY, 19th JUNE 2009
Launched by YAB Chief Minister, the ceremony was attended by 1000 graduates and university student.Several state ministers were in attendance.The event also hosted the signing ceremony of the Memorandum of Understanding(MOU) between the Sarawak State Government and Sarawak Energy Berhad (SEB) on the placement of the graduates for the programme.An exhibition by various companies and government departments were also organized for the event.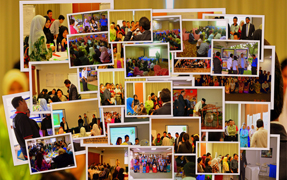 GALLERY CBG
This group of photos presents some of the attendance in random orientation sessions.
Orientation on May 2010
Orientation on June 2010
Orientation on July 2010
Orientation on August 2010
Orientation on November 2010
Orientation on December 2010
Orientation on January 2011
Orientation on February 2011

ANNOUNCEMENT

Extension of CBG Programme

The programme will be extended until June 2015 .The participants who are currently training at their agency will remain assigned with their agency.The extension letter will be distributed to the participants through the agency early July .
For more details , please assist Secretariat via email or phone.
Extension of CBG Programme Circular

Pertukaran Akaun Bank

Tuan /Puan dinasihatkan untuk kekal menggunakan akaun bank tuan/puan yang sedia ada untuk tujuan pembayaran elauan bulanan. Ini kerana pertukaran akaun bank dikhuatiri akan menimbulkan masalah/gangguan terhadap data akaun dan urusan-urusan lain yang berkaitan.

Pengemaskinian Kehadiran Peserta LPKS bagi bulan Mei 2013 (3 Mei 2013)
Sila kemaskini kehadiran peserta LPKS bagi bulan Mei 2013 adalah pada 13 Mei sehingga 15 Mei, ini adalah bertujuan sempena sambutan hari gawai. Sila kemaskini kehadiran peserta di bawah seliaan Tuan/Puan pada tarikh yang ditetapkan, untuk keterangan lanjut sila hubungi sekretariat yang berkaitan.
-: Puan Olive Laraine
No Telefon: 082-311541

ANNOUNCEMENT

Please be informed that the Secretariat is currently updating the CBG Database. The link below is a name list of applicants who have not been placed. For those whose names are listed, please fill out the 'Applicant Update Form' to confirm if you're still interested in joining this program. We would appreciate if you could send us the filled out form through fax (082-311140) before the end of April 2012.
Name List Of Applicants Havent Been Placed

ANNOUNCEMENT TO AGENCIES
ATTENTION
In tandem with our policy to streamline requests for CBG participants, agencies are now required to complete the request form specially designed for this purpose. Please click on this link. NEW PARTICIPANT REQUEST FORM

Notice of resignation Participants
Notice of resignation must be submitted 7 days before the resignation date to the Secretariat through the agency's head or the assigned supervisor. A resignation form is ..

Participant's Evaluation
The Secretariat wish to inform all supervisors and participants for the Capacity Building for Graduates Programme that the evaluation of participant's performance
....

Mac. 21, 2011
All participants are entitled to paid 7 days sick leave and annualleave per year of completed training based on the following calculation...
New attendance form

Questionnaire

related links